30 Food Conversation Questions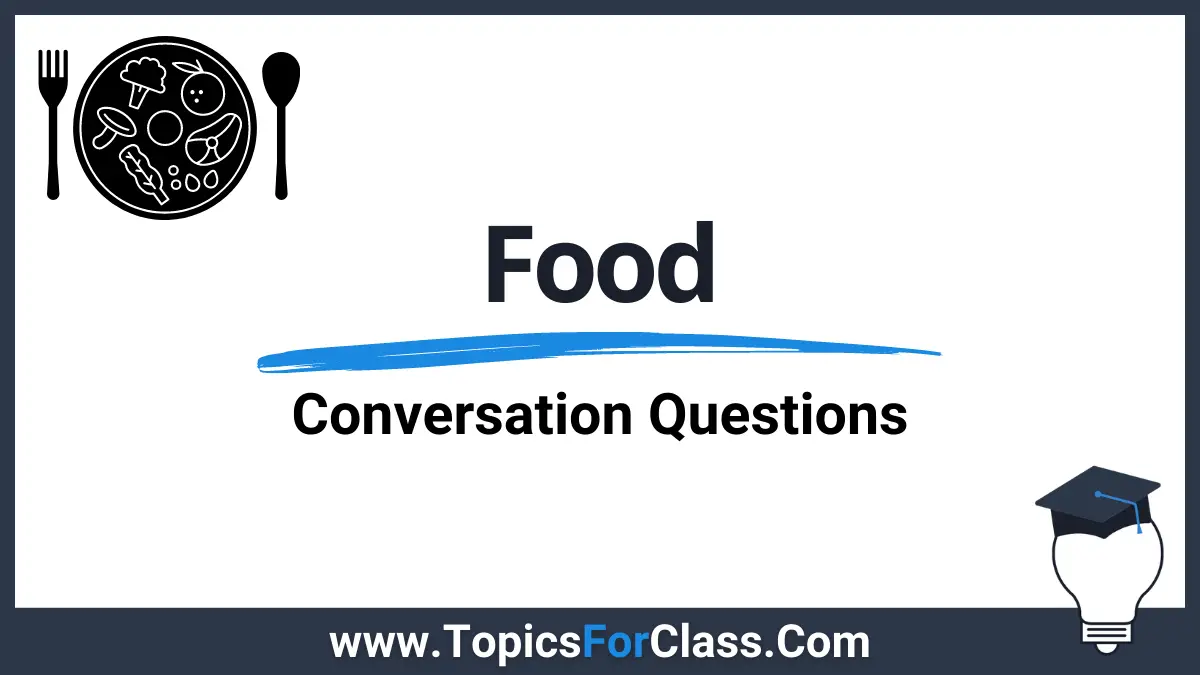 Talking about food is a fantastic conversation topic. Food and eating is such a big part of many peoples' lives and culture and everyone has favorite and least favorite foods. Below you'll find 30 food conversation questions you can ask to start a fun conversation about food in your class.
Related: Food Worksheets
Food Conversation Questions
Be careful! These conversation starters about food may make your students hungry.
What's your favorite food?
What's your favorite cuisine?
What's your go-to recipe?
What do you usually eat for breakfast?
Do you think breakfast is the most important meal of the day?
Do you like trying new foods?
Do you have any food allergies?
Do you ever order delivery food?
How often do you eat fast food?
What's your favorite pizza toping?
How often do you eat fruit?
What food do you hate?
Have you ever ordered food in a foreign language?
What was the last meal you cooked?
Have you ever had breakfast in bed?
How much can you eat at an all-you-can-eat buffet?
What is the most expensive meal you have ever eaten?
What dessert do you love to eat?
Do you like to drink hot drinks?
If you could only eat one thing for a year, what would it be?
Which herbs and spices do you regularly cook with?
What is the strangest food you have ever tried?
Have you ever baked a cake?
What food do you like to eat on your birthday?
What's your favorite meal of the day?
Who do you usually eat meals with?
Which one is better? A picnic in the park or a meal in a restaurant?
Which one do you prefer? Cake or ice cream?
Do you ever eat leftover food?
Do you have a favorite restaurant?